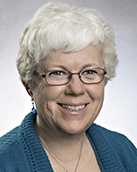 Reference & Education Services Librarian Francis A. Countway Library of Medicine Harvard Medical School
Julia Whelan is Reference & Education Librarian at Countway Library, Harvard Medical School. She is a graduate of Swarthmore College, has a Master's degree from Simmons College, and is a distinguished member of the Academy of Health Information Professionals. At Harvard Medical School, she teaches in the medical school curriculum. Areas of special interest are evidence-based practice, drug information, healthcare quality improvement and patient safety, natural medicines, palliative care, and access to health information for developing countries.
Conflicts of Interest: None.