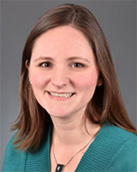 Librarian Boston Children's Hospital
Jessica LaBrie has been a librarian at Boston Children's Hospital since 2014. She manages the Medical Library's electronic resources and serials collections, and she also develops and maintains library websites and subject guides. Jessica holds a Master of Science in Library Science degree from the University of North Carolina at Chapel Hill, and she completed undergraduate work in anthropology and linguistics at Dartmouth College.
Conflicts of Interest: None.